Car Repair/Maintenance Services in Kabul / Afghanistan
Afghan Logistics & Tours Pvt.Ltd (ALT) Auto Repair/Maintenance Facility is part of our seven expanding companies, and we have been in auto trade, rental and repair/maintenance business since 2002, having over 16 years of experience in auto business we have learned that dealing with autos will not be possible without having an auto repair/maintenance facility which be well-equipped and would have very well trained mechanics, therefore we have established our own auto repair/maintenance facility to conduct routine repair/maintenance services on our own fleet that you can enjoy a great quality of services and not hassling on the road with car mechanical issues our goal is to private you the safe and sound trip and transportation services in Kabul and across the country, also we provide repair/maintenance services for our valued clients who have their own fleet, if you want to have an hassle free auto for yourself, your organization or company, contract the repair/maintenance of your own, organization or company fleet with us, we provide the best and reliable both repair/maintenance, pickup and delivery services for you.
We provide the following services and solutions for our valued clients
Auto parts from the world's most reputable suppliers
Auto Denting
Auto Painting
Auto Mechanical work
Auto Wiring
A Special Service for Embassies, NGOs, Companies, and International entities
Services for Insurance companies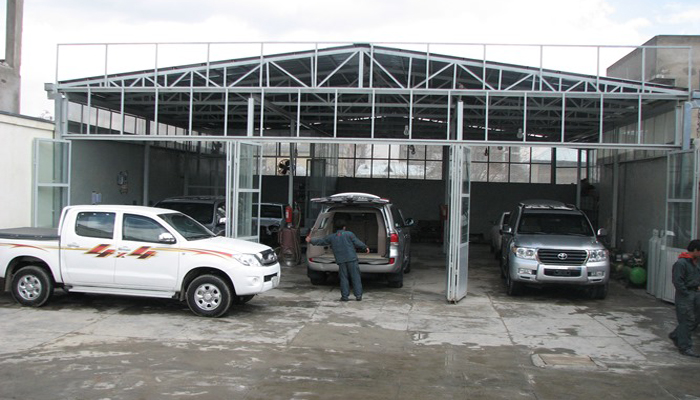 Auto Denting
Our denting specialists have worked many years in this field we use modern denting tools, and they know how to take care of your vehicle denting that the dented part of the vehicle should not be different than original surface after the job is done.
Auto Painting
Auto painting is very sensitive and it is always very difficult job, painting is always very hard in each season cold and hot weather therefore we have got our own painting boat, which controls the weather purity and temperature in all seasons and will give us the best atmosphere of painting and it is 100 % safe for nature and life environment.
Auto Mechanical work
An engine is the most important part of the auto and nowadays it is very complicated to fix its failures therefore we have got very well trained mechanics, and we use the diagnostic computers to trace engines problems and failures, we easily get the coding translate them and find out the problem of the auto engine within a few minutes where most of the other auto workshops cannot find them manually for hours, and finally they end up with causing lots of other problems for your vehicle, using our repair/maintenance facility will be hassle free and we will get your car fixed without any headache and running around for parts.
Auto Wiring
Auto wiring is very important part of an auto we always use the diagnostic computers to trace the wiring failures of an auto and we get them fixed professionally, we provide the following wiring services
General wring diagnoses in case of mass wiring failure
Key Programming
Air Bags Programming
ABS programming
Engine Control programming
Beam lights programing
Water flood auto total wiring change
Others upon request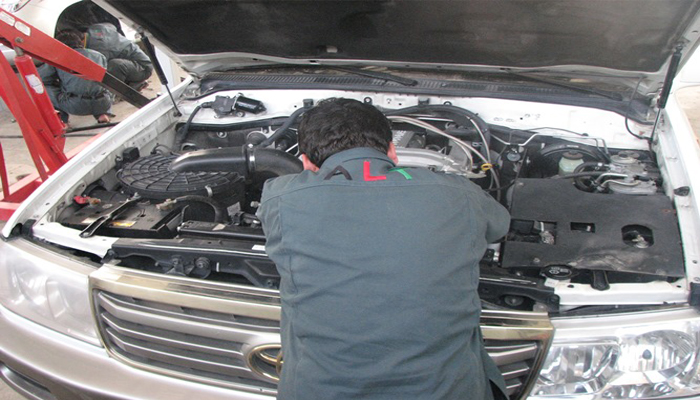 A Special Service for Embassies, NGOs, Companies, and International entities
We know your time is very important for you, and you have to give most of your time for your administrative works, and meetings, therefore we make your life and business easy for you, contract all your fleet repair/maintenance services with us we will do both repair/maintenance, pickup and delivery services for you if you are too much busy we can help you with purchasing of auto parts too.
Our services for Insurance companies
As we are in auto repair/maintenance business for more than 16 years, we can easily get your insured vehicles repaired on time anytime, and surely, we will give a very competitive rate too, your clients satisfaction is our mission
Our services for officials who have full time job
We know that you do not have time to go to auto repair/maintenance workshops to repair your auto, we have the solution for you, contract the repair/maintenance of your auto with us, once you arrived in your office we will come to your office door steps and get your auto from you, we repair its problems and bring it back to your office before you get out of your office in the late afternoon, if your auto does not get fixed within one day we will give you a loaner vehicle till your own auto is fixed, if you be our regular customer or contracted client as an added value we will provide you 24 hours a day 7 days a week roadside assistance in case your auto get failed on the road, just call us we are just a phone call away from you , we will come right away tow your auto to our repair/maintenance facility and give you a loaner vehicle , if a loaner vehicle do not be needed we give you a ride to your destination, and we will take care of the rest of the job.
Note: for roadside assistance we kindly request you to consider the traffic jams and your destination till we reach you, we really appreciate your patience at that moment in advance.
To contract the repair/maintenance of your own, organization or company vehicle with ALT please click here